MyTechFun.com
Searching for the best cheap 3D printer on the market, testing Mingda D2
Title: Searching for the best cheap 3D printer on the market, testing Mingda D2. Watch on youtube: https://youtu.be/EdAn5-Pc-k4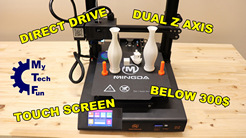 Tags: 3dprint, mingda, review, unboxing,
Mingda D2 is a cheap 3D printer with fantastic parameters, like direct drive extruder, dual Z-axis, touch screen, silent stepper motor drivers etc. It has printing volume of 23*23*26 cm (approx. 9*9*10 inch).
In this video you can find unboxing, assembling, test printing with PLA, PETG and FLEX filament.
Check the price here (amazon US, NOT affiliate link):
https://www.amazon.com/MINGDA-Printers-Extruder-Printing-Leadscrew/dp/B08MFNNJ1Z
amazon.de (also, NOT affiliate link):
https://www.amazon.de/-/en/Filament-Detector-Removable-Beginners-Enthusiasts/dp/B08FDQWBF8/ref=sr_1_5
Contents:
0:00 intro
2:32 specifications
3:12 unboxing
5:17 contents of SD card
6:23 assembling
14:27 bed leveling
15:40 first print g-code from SD card
17:42 repairing Z-axis
19:55 slicing software
21:02 testing resume after power loss
21:43 testing filament sensor
22:33 PLA test prints (cube, benchy)
23:33 FLEX filament printing
26:10 PETG printing
28:39 filament sensor repair
29:39 final thoughts
Mingda D2 on official website:
http://www.3dmingda.com/download/DIY_Seriesnok/MINGDA_D2_230230260mm_DIY_3d_printer__216.html
Support my work over Patreon:
https://www.patreon.com/mytechfun
Support my work over PayPal:
https://www.mytechfun.com/donation
---
Download files:
No downloadable files for this video.
---
© 2019
+
mytechfun.com |
Terms of Use