MyTechFun.com
Review of 3D Printer Enclosure made by Creality for Ender 3 size 3D printers
Title: Review of 3D Printer Enclosure made by Creality for Ender 3 size 3D printers. Watch on youtube: https://youtu.be/YA1ebCIUppw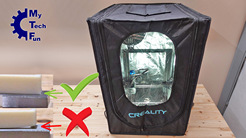 Tags: 3dprint, creality, enclosure, ender3, review, unboxing,
This is a test of Creality Small 3D Printer Enclosure designed for Ender 3 size printers. This equipment is necessary if we want to print ABS, ASA to prevent wrapping of the object. In this review I am measuring temperatures of the air inside, stepper motor temperatures, measuring the noise, testing is it really flame retardant. Test prints are from ASA and ABS. ASA object was printed perfectly. ABS had some minimal wrapping, but room temperature was only 15°C, inside 35°C.
You can check price on Banggood.com (affiliate link):
https://www.banggood.com/custlink/3KKEFjewOn
Product page on Creality website:
https://www.creality.com/goods-detail/creality-3d-printer-enclosure
Mentioned video, where I used those specimens: 3D printed object inside a car temperature test
https://youtu.be/QdAKd_YbsjI
Contents:
0:00 About enclosures
2:16 Unboxing
2:37 Assembling
5:03 Inserting 3D printer
6:32 Measuring temperatures
8:38 3D printing ASA
12:44 Another ASA printing
13:37 ABS 3D printing
15:16 Noise test
15:35 Flame test
15:59 Final words
Support my work over Patreon:
https://www.patreon.com/mytechfun
Support my work over PayPal:
https://www.mytechfun.com/donation
---
Download files:
No downloadable files for this video.
---
© 2019
+
mytechfun.com |
Terms of Use