MyTechFun.com
Gift idea for mechanical person - a double threaded bolt with left and right handed screw nuts
Title: Gift idea for mechanical person - a double threaded bolt with left and right handed screw nuts. Watch on youtube: https://youtu.be/6aucvcCdOv0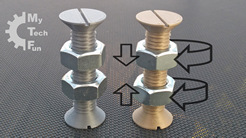 Tags: 3dprint, 3d printed bolts, product design,
Just an interesting gift idea for mechanical person (who is not familiar with 3D printing possibilities). A bolt with two threads for left and right handed screw nuts.
STL files can be downloaded below this text.
Contents:
0:00 about double threaded bolts
3:40 sizes - example
4:40 table for metric threads
7:15 prank
8:38 design in Fusion 360
9:10 slicer and printing
9:43 final words
Support my work
https://www.mytechfun.com/donation
or over Patreon:
https://www.patreon.com/mytechfun
STL files:
- M24 screw nuts already have 0.1mm clearance, no need to reduce the bolt size in any direction.
- M12 and M14 bolts need to be resized to 98 or 99%, but ONLY in X and Y direction. Z must be unchanged. Don't forget to prepare metallic nuts for these bolts, because you have to PAUSE the printing, screw the nuts and RESUME 3D printing.
For M12 bolt prepare M12 LEFT (standard 1.75mm pitch size) nut and M12x1 right-handed nut.
For M14 bolt prepare M14 LEFT (standard 2mm pitch size) nut and M14x1.25 right-handed nut.
---
Download files:
---
© 2019
+
mytechfun.com |
Terms of Use