MyTechFun.com
How to replace old incandescent KPR light bulb with smaller size LED
Title: How to replace old incandescent KPR light bulb with smaller size LED. Watch on youtube: https://youtu.be/uhqHpgA6E-0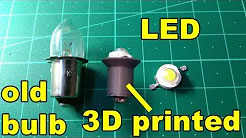 Tags: 3dprint, LED, old light bulb, KPR light bulb, replace old incandescent bulb, how to,
In this story you can see how I replaced the old KPR incandescent light bulb with smaller size (but same voltage) LED. Holder body is 3D printed. STL file of the holder you can download from bottom of this page.
50 pcs of LED used in video cost 2.6$. In the meantime I found that there is a LED KPR bulb on the market, but it is very expensive (3$ 1pc), so I am happy with my solution so far, it's cheaper and also I had very good practice with 3D printing.

---
Download files:
---
© 2019
+
mytechfun.com |
Terms of Use