MyTechFun.com
Questions and Answers - end of 2020
Title: Questions and Answers - end of 2020. Watch on youtube: https://youtu.be/1Rc8ySc-MLg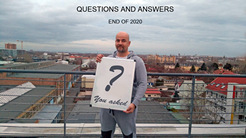 Tags: questions,
It is last day of 2020, time for questions and answeres. I created a post where you can aks me in comments of that post. Also in this video I would like to thanks to all patreson supporters.
My patreon page:
https://www.patreon.com/mytechfun
List of questions:
- Hello I really enjoy your videos. Question 1 do you think it's worth to modify your ender 3v2 to print higher temperature materials? Question 2 do you think pursa slicer is a good alternative to cura for ender 3.
Big thanks for all the hard work and interesting videos
- What was your career path?
- What do you teach at the university?
- Where are you from?
- How old you are?
- Witch is your dream job?
- I do believe that 3-D printing and RC hobby go hand-in-hand however I would like to know what the future RC battery will entail
Next Q/A will be at last day of 2021.
---
Download files:
No downloadable files for this video.
---
© 2019
+
mytechfun.com |
Terms of Use