MyTechFun.com
Testing eSUN eBox filament dryer - unboxing and review
Title: Testing eSUN eBox filament dryer - unboxing and review. Watch on youtube: https://youtu.be/KnZw_Jnug54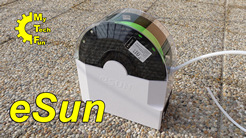 Tags: 3dprint, esun, filament dryer, review, unboxing,
Some filament types (like PETG, Nylon) are very sensitive to moisture form the air. To get best quality from 3D printing, they should be dried and kept dried during 3D printing. eSun filament dryer may be a solution to this problem. With PETG I tested the layer adhesion too. This product was sent to me by Banggood for a review.
Check the price on Banggood (affiliate link):
https://www.banggood.com/ESUN-Filament-Box...
Materials and methods:
3D printer: Prusa MK3s
Filaments: Plasty Mladeč (PM) PETG, Gembird Nylon
Contents:
0:00 About filament dryers
2:05 Unboxing
4:40 Display and menu
6:35 PETG on near 100% humidity
7:23 3D printing wet PETG
8:02 Drying PETG
8:39 Power consumption
9:32 Evaporated water mass
9:48 3D printing dry PETG
10:08 Testing layer adhesion
10:33 Tensile test
10:57 Results
11:19 Drying Nylon with eBox
14:43 Drying Nylon in oven
16:41 Max temperature in box
18:01 Conslusions
Support my work over Patreon:
https://www.patreon.com/mytechfun
Or over PayPal:
https://www.mytechfun.com/donation
---
Download files:
No downloadable files for this video.
---
© 2019
+
mytechfun.com |
Terms of Use