MyTechFun.com
Laser engraving (etching) stainless steel with budget 15W laser engraver (Ortur Laser Master)
Title: Laser engraving (etching) stainless steel with budget 15W laser engraver (Ortur Laser Master). Watch on youtube: https://youtu.be/nTB1Ov3_JOA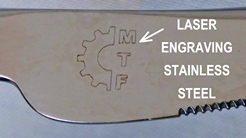 Tags: laser engraving, ortur,
In my review of Ortur Laser Master (15W) I tried to engrave some metal, but without success. Then two comments suggested to me to use mustard on the surface. First, I thought it is a joke, but then I found an interesting article, where somebody successfully used mustard and vinegar for stainless steel engraving (or better word is etching). I am also trying again the marker provided with the laser, since this is recommended in the manual.
Review of Ortur Laser Master:
https://youtu.be/DkBVmveWDMM
Ortur Laser Master on Gearbest:
https://www.gearbest.com/laser-engraving-machine/pp_009731781853.html?wid=1433363&lkid=79710243
Article: Both Mustard & Straight Vinegar INDEED etch stainless..perfectly! See ya Ceramark, by rubbersoul79:
https://community.glowforge.com/t/both-mustard-straight-vinegar-indeed-etch-stainless-perfectly-see-ya-ceramark/17699
Support my work:
https://www.mytechfun.com/donation
Or just buy me a coffee:
https://buymeacoffee.com/mytechfun
or become a Patreon:
https://www.patreon.com/mytechfun
---
Download files:
No downloadable files for this video.
---
© 2019
+
mytechfun.com |
Terms of Use