MyTechFun.com
Big PLA filament comparison test (14 brands), Part 1/4: Unboxing and spool design
Title: Big PLA filament comparison test (14 brands), Part 1/4: Unboxing and spool design. Watch on youtube: https://youtu.be/L9tNhfxs9BU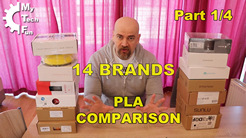 Tags: 3dprint, pla filament, filament test,
This is my big PLA filament comparison test. In this experiment I am testing 14 very popular PLA brands. The first part is this video, where I am unboxing and rate the packaging and the spool. 2nd part will be printing the temperature tower (to see overhang, bridging, stringing properties on different temperatures). 3rd part will be mechanical testing (tensile-, layer adhesion- and impact test). 4th part thermal test. This is not sponsored video by any manufacturer. This was very big work, if you find it useful, please help me by sharing this video with others.
How can you support my work?
- share this video on social network
- buy me a coffee https://www.buymeacoffee.com/mytechfun
- become a patreon https://www.patreon.com/mytechfun
- PayPal: https://www.mytechfun.com/donation
Part 1 is this video.
Part 2: (in progress)
Part 3: (in progress)
Part 4: (in progress)
Contents:
0:00 Introduction
2:54 Unboxing
2:59 Hatchbox PLA
3:57 Prusament PLA
5:02 bq Easy Go
6:02 Gembird
7:17 AzureFilm PLA Original
7:50 Overture
9:18 Geeetech
10:32 eSun
11:21 Polymaker, PolyPlus
12:08 TecBears
13:15 AmazonBasics
14:28 Sunlu
15:33 3DQF
16:34 3Dee
17:37 Final rating
18:50 End of part 1
#pla #plafilament #platest #placomparison
---
Download files:
No downloadable files for this video.
---
© 2019
+
mytechfun.com |
Terms of Use