MyTechFun.com
Ender3 V2 dual Z axis upgrade with pulley and timing belt with single stepper motor
Title: Ender3 V2 dual Z axis upgrade with pulley and timing belt with single stepper motor. Watch on youtube: https://youtu.be/TIptLVvszLU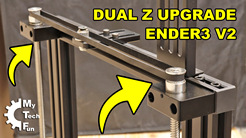 Tags: 3dprint, ender3, ender3upgrade, creality,
Ender3 V2 has only one lead screw on Z-axis. Adding another screw will make this printer more reliable on higher printing speeds and prepare it for adding more weight to hotend (for example direct drive extruder upgrade). I already tested two stepper motor dual-Z system. It works perfectly (only pay attention not to move screws if motors are turned off). This new method synchronizes screws even when stepper motor is not powered, thanks to timing belt and pulleys. This package was sent to me by Banggood for a review, but there was no manual in the kit, so I decided to create this detailed assembling video.
Affiliate Banggood links:
Dual Z with timing belt and pulley:
https://www.banggood.com/Dual-Z-axis-Creality-3D-Ender-3-Version-Upgrade-Kit-with-Single-Stepper-Motor-Dual-Z-Tension-Pulley-Set-p-1617973.html?p=KY220152814037202009&custlinkid=1478867
Dual Z with two stepper motors:
https://www.banggood.com/Creality-3D-Ender-3-V2-Dual-Screw-Rod-Upgrade-Kit-Double-Screw-with-Nut-for-3D-Printer-Part-p-1773217.html?p=KY220152814037202009&custlinkid=1464139
Previous video: dual Z with two stepper motors:
https://youtu.be/9nvQR1OGIq4
Used STL files you can download below this text.
Ender3 V2:
https://www.banggood.com/custlink/GGvh5E38Rt
List of all Ender3 videos on MyTechFun channel:
https://www.mytechfun.com/videos/ender3
Support my work:
https://www.mytechfun.com/donation
Or just buy me a coffee:
https://buymeacoffee.com/mytechfun
or become a Patreon:
https://www.patreon.com/mytechfun
Contents:
0:00 About dual Z axis
4:19 Unboxing
5:04 Assembling
22:16 3D printing
25:00 Conclusions
#ender3v2, #ender3upgrade, #ender3dualzaxis, #3dprinting
---
Download files:
---
© 2019
+
mytechfun.com |
Terms of Use