MyTechFun.com
Testing and upgrading bed leveling springs and knobs - Ender3 V2 upgrade
Title: Testing and upgrading bed leveling springs and knobs - Ender3 V2 upgrade. Watch on youtube: https://youtu.be/f5lfxo_t4hk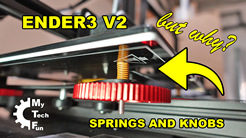 Tags: 3dprint, ender3, ender3upgrade, creality,
Most of 3D printers with manual bed leveling uses similar mechanism: bed leveling springs between heated bed and fixed plate and rotating knob.
Many 3D printer users claim that they don't have to level the bed so often since they did this upgrade to those yellow leveling springs. I tried to measure the strength of these springs, relative to factory springs. Recommended cheap and quick upgrade.
Springs and knobs used in video on Banggood (affiliate):
https://www.banggood.com/4Pcs-Upgraded-Metal-Red-Hand-Screwed-Leveling-Nut-+-4pcs-Spring..
Mentioned silicone bed leveling mounts:
https://www.banggood.com/4pcs-or-pack-18mm+3-+-16mm+1-Silicone-Shock..
Buy me a coffee:
https://www.buymeacoffee.com/mytechfun
or become a Patron:
https://www.patreon.com/mytechfun
List of all Ender3 V2 upgrade videos:
https://www.mytechfun.com/videos/ender3upgrade
Contents
0:00 About new springs
4:00 Disassembly
5:50 Measuring the tension
9:23 Assembling
15:11 Conclusions
#yellowsprings #ender3v2
---
Download files:
No downloadable files for this video.
---
© 2019
+
mytechfun.com |
Terms of Use