MyTechFun.com
Creep test with 3D printed plastic materials: PLA, PETG, ASA, Nylon
Title: Creep test with 3D printed plastic materials: PLA, PETG, ASA, Nylon. Watch on youtube: https://youtu.be/88pk2cNOeGE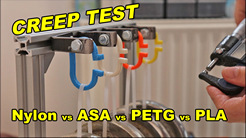 Tags: 3dprint, strength test, material test, creep test,
Material creep is the tendency of a solid material to deform permanently under the influence of constant mechanical load. In this creep test I am comparing 4 different 3D printing filaments (PLA, PETG, ASA, Nylon) to better understand their behavior under constant load over a longer period of time. I prepared 3 different creep tests, but I am opened for suggestions, how to improve them. One of my next videos will be a comparison of 4 different ABS filaments, to find out which is the best for 3D printed Voron parts.
If you like my work, you could support me:
Patreon: https://www.patreon.com/mytechfun
Or just buy me a coffee: https://www.buymeacoffee.com/mytechfun
Used materials and methods:
Creality enclosure https://www.banggood.com/custlink/3KKEFjewOn
Torque wrench (set to 2.5 Nm) https://www.banggood.com/custlink/mD3dgBK0Kc
Filaments: PLA, PETG, ASA (Prusa) and Nylon (Gembird)
Creality dryer: https://www.banggood.com/custlink/KvGhg5VKJr
Eibos https://shop.eibos3d.com/
Test specimens are 3D printed on Prusa MK3s.
Results, STL files, drawings, 2D scale can be downloaded below this text.
Mentioned in the video:
Screw test idea I got from video by Stefan from @CNC Kitchen .
Tensile testing machine: https://youtu.be/GLOx139IB0s
Creep test machines: http://www.kormtm.com/mtm/creep_testing_iso_899
Contents:
0:00 Introduction
0:21 What is material creep?
1:23 About tested materials
2:26 About tensile creep test
3:08 About 3 point bending test
3:35 About Test 1 (C-test specimen)
4:40 About Test 2 (2 point bending)
5:38 About Test 3 (screw test)
7:44 Starting with Test 1
9:31 Starting with Test 2
10:53 Starting with Test 3
13:06 After 10 hours
14:26 After 24h
14:55 Day 2
18:24 Day 4
20:21 Heating (Day 4)
25:07 Day 6
27:18 Removing the load
28:07 Analyzing the results
30:02 Conclusions about materials
31:24 About my creep tests
#creeptest #materialcreep #3dprinting #3dprintingfilaments
---
Download files:
---
© 2019
+
mytechfun.com |
Terms of Use