MyTechFun.com
16 PLA brand comparison test - which one is strongest? Part 3/3
Title: 16 PLA brand comparison test - which one is strongest? Part 3/3. Watch on youtube: https://youtu.be/spCtiX4b3ds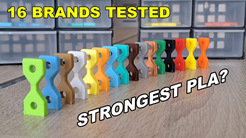 Tags: 3dprint, material test, strength test,
This is the 3rd (last) part of my big PLA brand comparison test. In this episode I am testing the tensile strength and layer adhesion. Almost every filament was bought by me, only AzureFilm, Eryone and 3D Active was sent to be included in this testing.
Contents:
0:00 Introduction
1:51 3D printing
3:10 Layer adhesion tests
6:00 Tensile tests
8:05 Results
9:19 Final words
If you like my work, you could support me by sharing or liking the video but donations are welcome too :-)
Patreon: https://www.patreon.com/mytechfun
Buy me a coffee: https://www.buymeacoffee.com/mytechfun
PayPal domations: https://www.mytechfun.com/donation
Results in Excel table below this text.
List of tested brands:
3D active
Eryone
Sunlu
Amazon Basics
eSun Silk
Geeetech
Gembird
BQ
3Dee
3DQF
Tecbears
PolyPlus
Overture
AzureFilm
Prusament
Hatchbox
#3dprinting #plafilament
---
Download files:
---
© 2019
+
mytechfun.com |
Terms of Use