MyTechFun.com
Hardened steel nozzle vs brass nozzle - the layer adhesion test
Title: Hardened steel nozzle vs brass nozzle - the layer adhesion test. Watch on youtube: https://youtu.be/2FXyN1Q9Bzs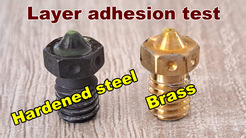 Tags: 3dprint,
In the CHT nozzle test, there was surprising result, test specimens printed with the hardened steel nozzle had 1/3 layer adhesion compared to objects printed with brass nozzle using the same temperatures. In this experiment, I want to find what settings we have to use with steel nozzle to have similar layer adhesion.
CHT nozzle video: https://youtu.be/ZyE9A2vx5C8
Results download below this text.
If you like my work, you could support me.
Patreon: https://www.patreon.com/mytechfun
Buy me a coffee: https://www.buymeacoffee.com/mytechfun
Chapters:
0:00 Introduction
0:41 The plan
1:36 Nozzle change
1:55 3D printing
2:26 Pulling test 0.6 mm
3:00 Pulling test 0.4 mm
3:31 Results
4:25 Conclusions
#3dprinting
---
Download files:
---
© 2019
+
mytechfun.com |
Terms of Use